Over the last 26 years, I've learned how to adapt my lifestyle for RA, including different exercises and stress management techniques. Here's what my current day-to-day life looks like.
February 2nd is Rheumatoid Arthritis Awareness Day. This day was created by the Rheumatoid Patient Foundation to increase recognition of those living with rheumatoid arthritis (RA). Whatever your own approach or opinions of awareness days and months, increasing public knowledge of RA is always important, at any point in the year.
RA is sometimes referred to as an invisible disease because its symptoms are not always obvious. Someone might not look sick, but they could be managing arthritic symptoms. This means that RA can remain invisible in society and many people are not familiar with what it really means to live with RA.
If you have recently been diagnosed with RA, you may be unsure how your day-to-day life might change. Even after having RA for 26 years, since I was 10 years old, I still find it useful to learn how others may adapt their day and actions.
So, to bring awareness on this day, I'm sharing a day in my life as an RA warrior.
For the last four years, my RA management plan included a weekly Actemra injection. When I was pregnant, I chose to stop taking medication since my symptoms went into remission. Right now, my symptoms are still manageable with diet and exercise.
In addition to having RA, I have two kids. My son is 3 months old, and my daughter is 4 years old. I work from home as a blogger and a chemist. Many of my daily activities I do because I have RA, but other things I do just like everyone else.
Join the free RA community!
Connect with thousands of members and find support through daily live chats, curated resources, and one-to-one messaging.
4:30–5:00 a.m.
I'm a morning person, so I automatically wake up around this time. I quietly sneak off to the kitchen to switch on my coffee pot. While I drink my coffee, I read through my devotionals and spend a little time journaling. This morning time has become a crucial stress management technique for me since I was in college.
When I was a young adult in college, I would wake up and hit the ground running each morning. The stress of the day was overwhelming, and I continued to struggle with arthritic flares. So, I started waking up several hours earlier than usual to create some quiet time before starting my day.
I have continued this practice all through my 20s and 30s. It has been even more important to me since becoming a mom.
6:30 a.m.
Time to wake up the kids. I get my baby up to nurse, then get my daughter up for breakfast. In the winter, I really love oatmeal with berries. I fix us some oatmeal, then fill mine up with blueberries and some almond milk. I have been mostly dairy-free for many years now which helps my arthritic symptoms.
There's conflicting evidence about how dairy interacts with RA. A study in 2018 suggested that the bacteria in milk was linked to the development of RA. A study published in 2019 found the opposite. But for me, it helps. Do what makes you the happiest and healthiest.
Breakfast is another important aspect of RA management for me. I don't do well skipping any meals, so I always make sure to take time to eat something filling.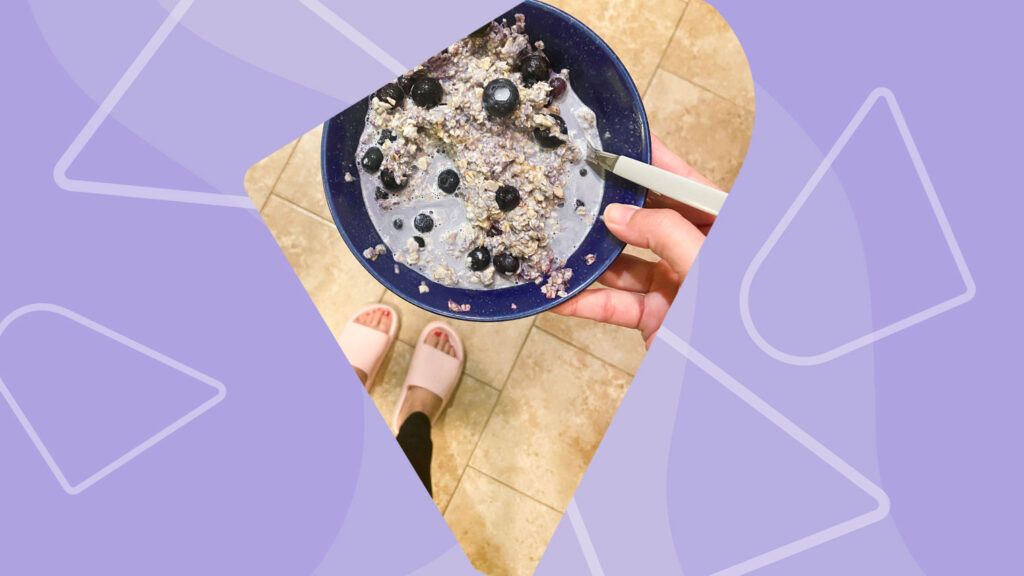 8:00 a.m.
Time to dress up in some layers since it's chilly this morning. I started layering clothes in the winter to help with stiffness in my joints from the cold. My hands are especially stiff in the mornings, so I like to wear gloves or mittens until my car warms up.
I drop my daughter off at preschool, then run a couple of errands around town. My husband is off today, so he is with the baby. Running errands is actually a nice little break for me during the day. I like the alone time and getting out of the house for a bit.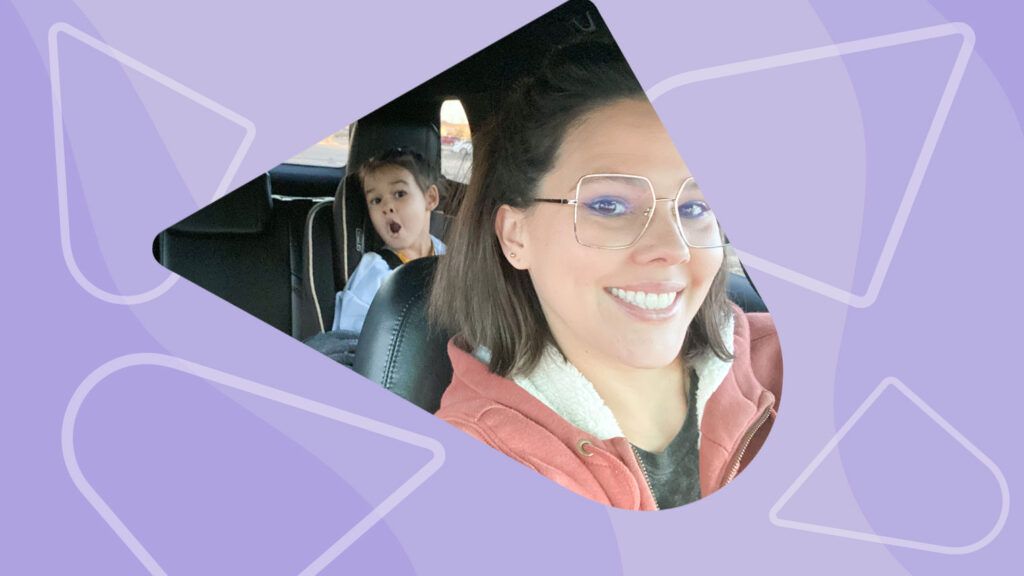 9:00 a.m.
Pilates starts now. I have a private pilates session once a week while my daughter is at school, and it's my favorite time. Pilates has been the best exercise for managing my RA. The reformer — a bed-like frame in the photo below — has been great for joint pain. My workout today is challenging, but I feel great when I leave.
On days I don't have a pilates session, I do a Barre class, or I work out from home. I try to exercise at least four days a week because it keeps my body moving and working better.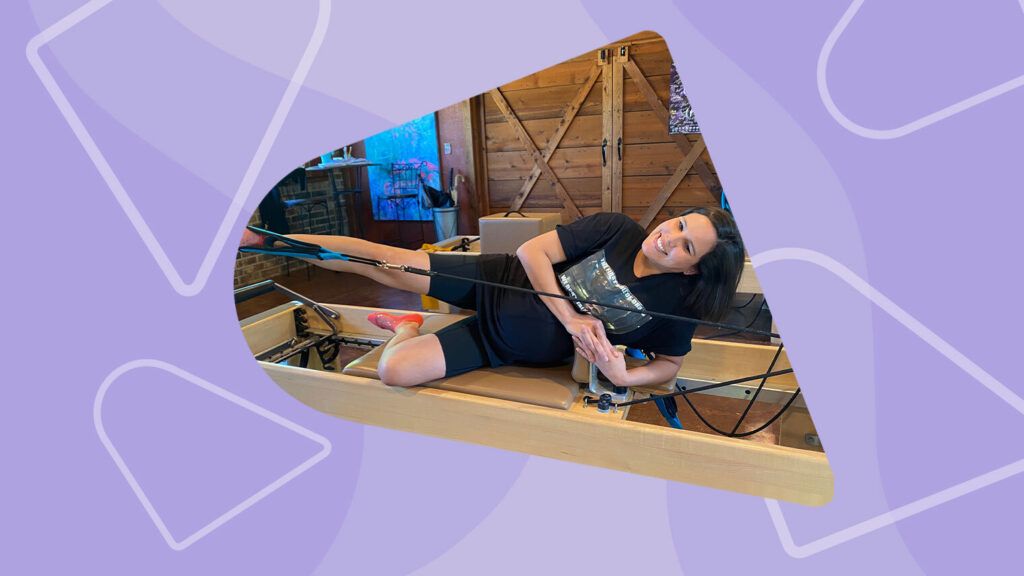 10:30 a.m.
Now I'm back home to nurse the baby.
I then make a protein shake. I have been doing plant-based protein powder, banana, and almond milk. Sometimes I make a green smoothie with different fruit.
12:00 p.m.
Time to get my daughter from school, then make lunch for everyone. Today we are keeping lunch simple with sandwiches and salads. My salad is topped with grilled chicken, crackers, broccoli, and some crispy onions.
Sometimes we will go get hamburgers for lunch after school if we have time. Eating healthy is important for my arthritic pain, but I also enjoy eating out sometimes. Food balance is another important aspect I have adopted since having RA.
Today is a salad day though since we ate out the day before.
1:00 p.m.
The day has turned out warm and sunny, so we all head outside for some Vitamin D. I take my laptop outside to get some work done.
I try to get outside to enjoy the sunshine as often as I can, especially in the winter. It helps relieve arthritic pain for me. My knees have always given me the most pain, and it's been found that sunlight exposure can help prevent cartilage loss in this joint.
Sometimes we take a walk, but today we are playing in the backyard.
Getting outside every day with my kids also helps my mental health. On days when the weather is too cold to be outside, I struggle more. I'm thankful to live in a climate that isn't always cold in the winter.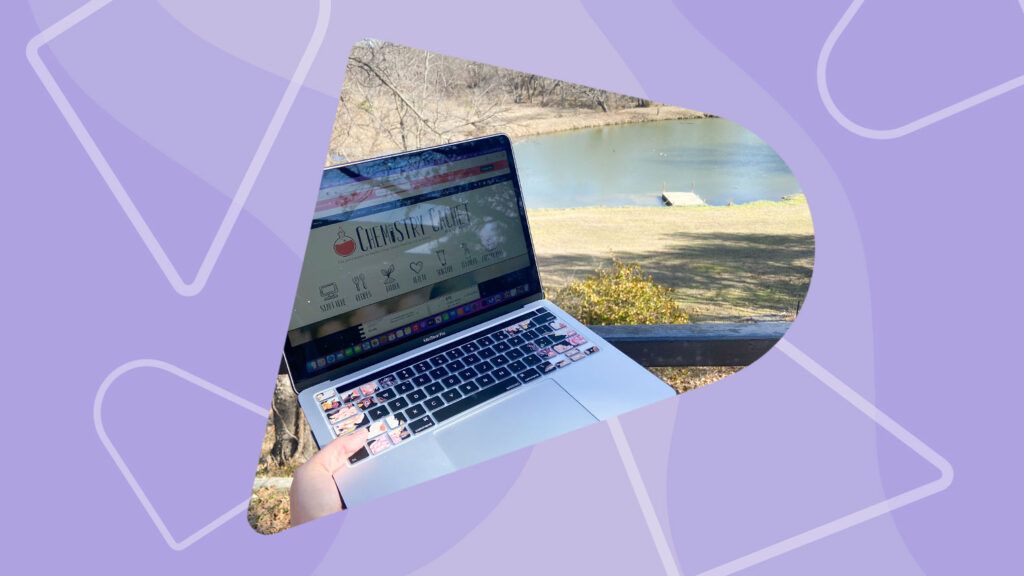 4:00 p.m.
I come inside to clean up the house and make supper. Keeping a tidy and clean house is another one of those daily tasks I really enjoy. I'm able to relax more when the house is clean.
When I go through an arthritic flare, I will get help with certain cleaning tasks that require bending down or getting on a step stool. Since my son was born, my joints have been doing great though. So, I'm trying to take advantage of this by doing all of the housekeeping myself while I can.
Tonight, I'm keeping supper simple with Tuna salad. If I have time, I love to make salmon and vegetables with rice. But if I want something quick, I like to make Tuna with grapes, onions, celery, apples, and broccoli all chopped up finely with some mayonnaise, seasoning, and pickles. I put my husband's on a sandwich and eat mine with crackers.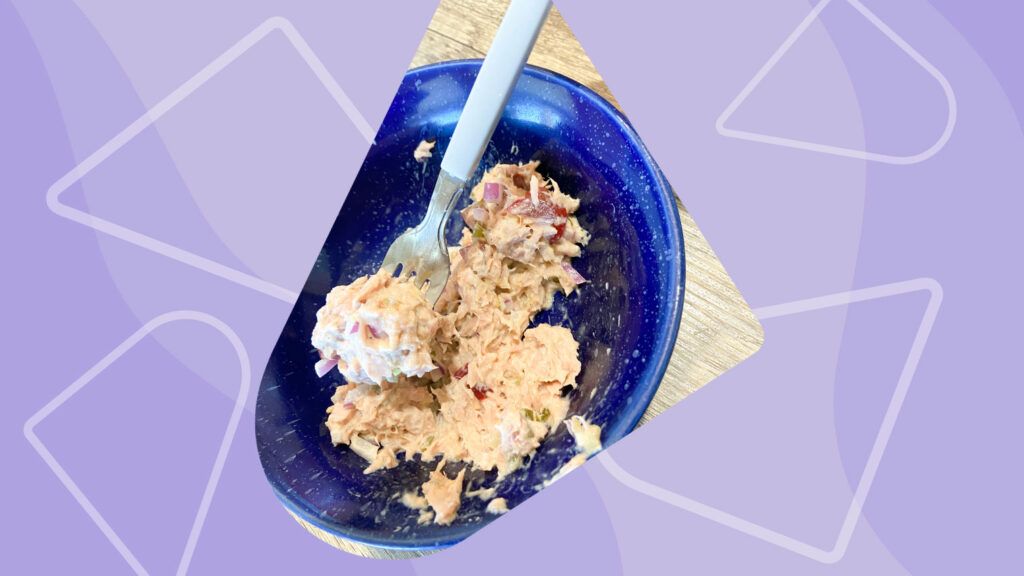 Tuna, and other fish, is a source of mercury in the diet, which can carry some risks. Fish also has numerous benefits, such as lowering your risk of heart attacks and strokes. Check out this resource — specific to tuna — for some of the latest advice.
6:30 p.m.
Time to get my daughter ready for bed and read some books together.
Since my husband is off work today, I spend some extra time with my daughter before bed and read a little longer than usual.
7:00 p.m.
I make some night tea which helps me relax before bed. I steep chamomile tea then add raw honey with a full squeeze of lemon. My husband heats up my microwaveable heating pad to put on my knee which has been acting up the last few weeks.
Warm tea and heat therapy in the winter have been staples for me since I was in high school. Winter is a harder time of year even when I'm doing well with RA. Keeping everything warm helps.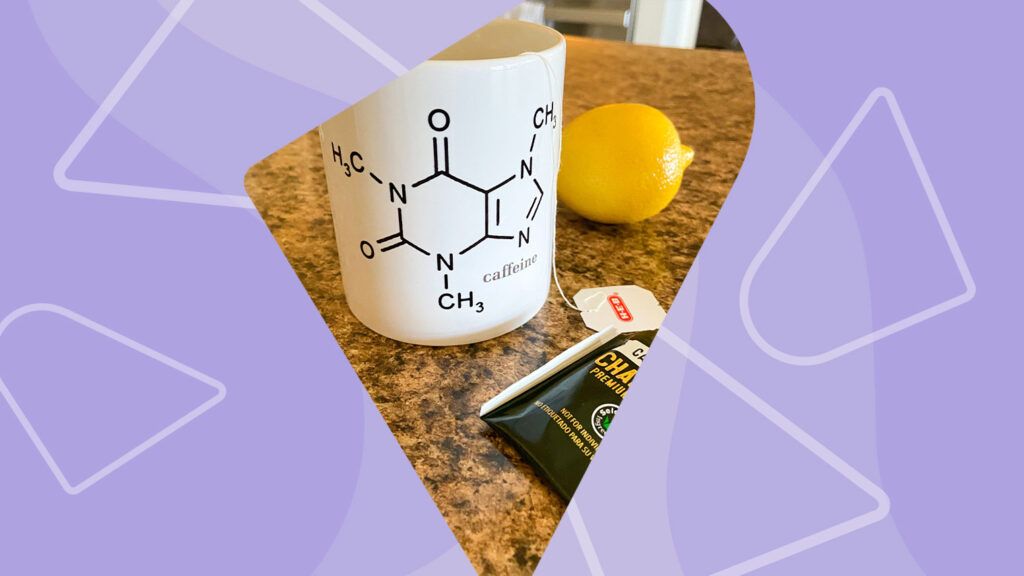 7:30 p.m.
We drink our tea, chat, and hang out a little bit with the baby before bed. My husband works an evening shift, so when he is off work, we will usually talk instead of watching something. When I'm home alone with the kids, I use this time to watch a movie or a favorite show.
Evenings and nights when I'm alone can be hard, especially when I'm struggling with arthritic pain. I'm always thankful for those days my husband has off because being with someone makes things better.
8:00 p.m.
I head to the bathroom for my skin care routine and to get ready for bed. I love going to bed as early as I can after the kids are asleep. Getting at least 7 to 8 hours of sleep is always my goal. It's hard to do with a little baby, but you'll catch me trying each night.
If I'm struggling with a flare or arthritic pain, I will go to bed even earlier if my husband is home.
8:15 p.m.
The lights go out, and it's time to sleep!
On this RA Awareness Day
Many of my daily tasks are just like any other person. My RA means I prioritize doing extra self-care, like using heating pads and working outside. Since I have had RA all of my adult life, these things are second nature now.
Exercise, healthy foods, and stress management are all crucial parts of my day as someone with RA. Keeping these in balance and being with my family helps me get through each day even if I'm struggling with this condition.
RA warriors are just like everyone else, I find that we just move more intentionally throughout the day.